Education Event Speakers:
Meet Marie
The host of the Education talk
The founder of Mini Mealtimes. She is a neurotypical mother of a 5-year-old who was diagnosed with autism.

She founded the award-winning app Mini Mealtimes after worrying about her son's health and nutrition. And realising the only options for advice were either patronising, expensive or generic. To solve this short-fall, she formed an expert and passionate team to solve this problem.

Together, they created an app that works as a 'dietician in your pocket'. That is to say, Mini Mealtimes provides age-appropriate personalised nutritional information for parents, helpful easy to action advice, and a bank of simple recipes and recommendations.

She previously worked for international advertising and PR agencies. And has been featured in numerous publications including The MailOnline, The BBC, 5Live, Tech Round, The Metro and the Evening Standard.
Pete Wharmby
A British Secondary English teacher and father who also happens to be autistic.
I'm trying to increase the global understanding of autism and what it is to be autistic. He was diagnosed with autism back in 2017 and has been determined since then that others would not have to negotiate through the complexity of the world without help and advice. He usually shares educational threads on Twitter.
Emily Gazzard
Emily Gazzard is Inclusion Manager and Assistant Headteacher at a large primary school in North London. Emily has been a teacher for 20 years and loves working in primary schools. She has a particular interest in supporting pupils with Autism and helping them to access learning in a relaxed and purposeful environment. Emily has a 17-year-old daughter who is autistic.
Cathy Wassell
Cathy took over the helm of the charity Autistic Girls Network in late 2019. She also runs her own business from home and is a mum to 2 autistic teens, both late-diagnosed, and is neurodivergent herself. Cathy's daughter was diagnosed autistic (and later ADHD and Dyspraxic) at 13 amid a massive mental health crisis and it's Freya's story that led Cathy to AGN.
Trish O'Dwyer
Her son's autism has provided his family with so much joy & so much humour (along with all the challenging bits too) that she wants to share it, raise awareness & be positive, always. Through Autism Threads she supports mums, carers/parents & families like her's all living life with autism; to enlighten & help educate those who do not know about autism, & finally, to contribute in some way to the incredible charity that is The National Autistic Society & other smaller/local autism charities.
She's starting simple, but as time goes by she hopes to grow the range with additional captions, more styles, fleeces, swim tops, her own labels, umbrellas, fidget balls, and so on - it's all very exciting!
Rebecca Varrall
Rebecca is the co-founder of Autism Unravelled. She is a Chartered Clinical Psychologist who has been working in the NHS with children, families and adults for the last 15 years. She has a specialist interest in working clinically with young people with autism spectrum condition, learning disabilities and ADHD and has been involved in a number of research projects in these fields. She has experience working with a range of complex needs from specialist schools for young people with learning disabilities and the clinic-based Social Communication Disorders Clinic in Great Ormond Street Hospital. She is keen to support those with neurodiverse presentations and associated mental health presentations. Rebecca is a guest lecturer and examiner on the Child Mental Health MSc at University College London. She is a member of the British Psychological Society, The Division of Clinical Psychology and Young Person Faculty, and is registered with the Health Professions Council.
Work Event Speakers: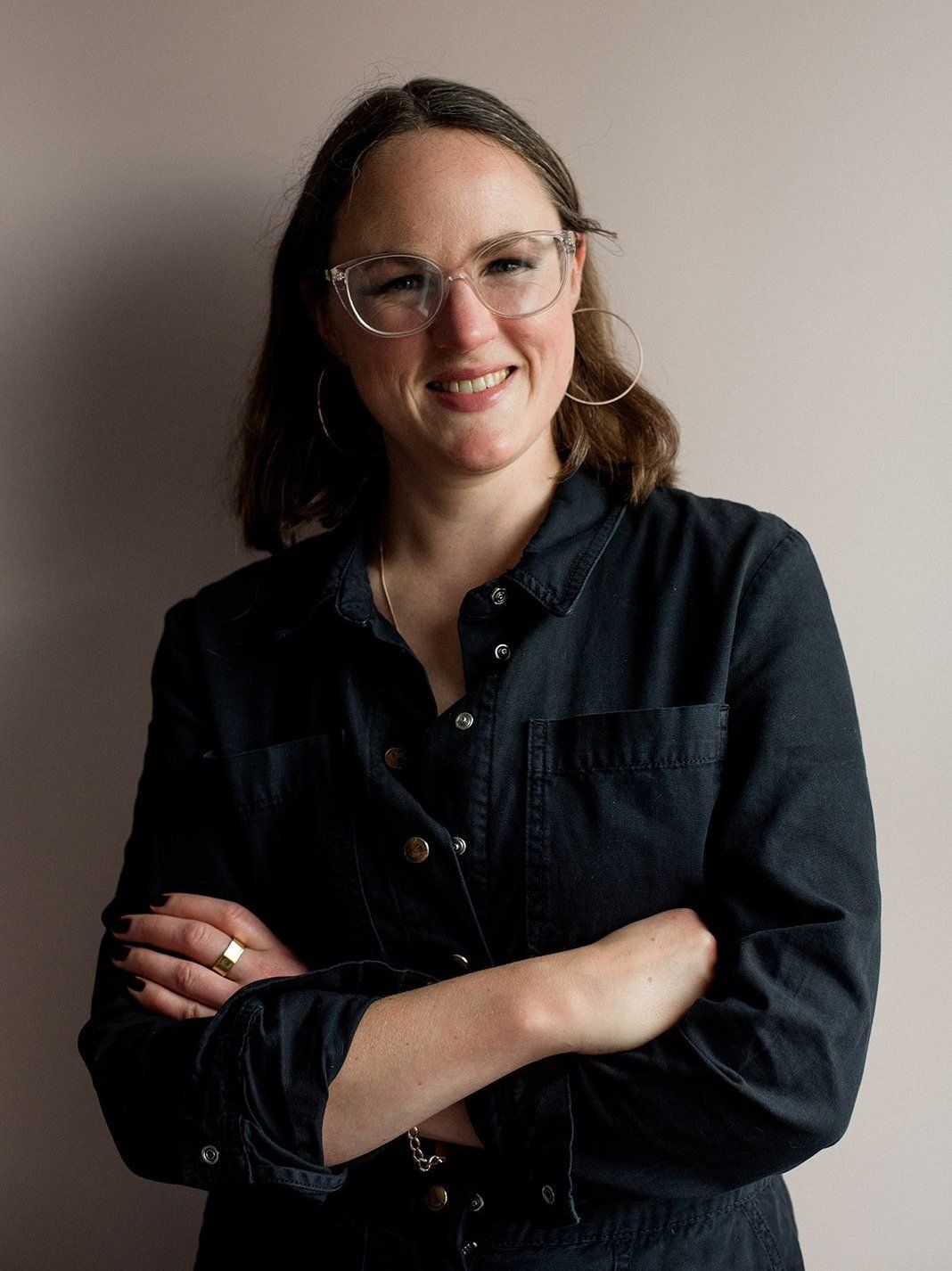 Ann Storr
The host of the work talk
Ann Storr is the founder of Storr Cupboard has been working with stories for 17 years for organisations as diverse as the Open University, Aviva, start-ups, charities and creative agencies.
Working with organisations whose missions include social justice,
sustainability, and psychology. Ann's practise is predicated on delivering the right results for each client, digging deep into the drivers and motivations of both the client and their ideal customers to drive results.
In 2020, Ann learned that ASD & ADHD affect both her and her two adolescent daughters. Learning at the age of 39 that neurodivergence had shaped her life profoundly affected her outlook on life. She is focussing part of her working time on raising awareness of what ASD & ADHD look like in girls and how undiagnosed neurodivergence
Ann's work has been featured in The Guardian, The Observer, The Evening Standard, Psychologies & BBC
Charlotte Melia
Charlotte has been teaching children since she was 17 years of age; starting at the Stagecoach Theatre Arts School on the Isle of Wight, where she was a dance and drama teacher. She later went to University, achieving a First Class BA Hons degree in English Literature and Theatre Studies from the Royal Holloway University of London, followed by a MA in Physical Theatre. In 2013, Charlotte founded Dazzle & Fizz Ltd, which she bootstrapped from an initial investment of just £47.50. Charlotte grew this business to c.£1M t/o per annum with her business partner Christie-Lee Molgaard. Dazzle & Fizz grew to become the UK's leading luxury family event planner for UHNWI's and specialises in educational, immersive entertainment and theatre for young children. Today, Charlotte is a single mother to a child with Autism Spectrum Disorder and PDA and is incredibly passionate about the inclusion of neurodiverse children in mainstream media and play. In 2020 Charlotte and Christie launched an EdTech product called Vesta, focussing on improving child mental and physical health via play.
Kieran Rose
Kieran Rose is a published Mainstream and Academic Author and International Public Speaker, whose essays at www.theautisticadvocate.com have been read by over 1.5 million people.
With a background in SEND Education and service delivery for children and adults, Kieran delivers his own specialist Autism trainings to families and Professionals; and provides private consultancy for charities and organisations across the UK and the world.
He is Founder of The Autistic Cooperative, an International network and lobbying group for Autistic Professionals and Advocates; Senior Advisory board member of the international Occupational Therapy & Speech and Language Education organisation Therapist Neurodiversity Collective; and is Neurodivergence Educator for US-national Occupational Therapy charity the Star Institute for Sensory Processing.
Kieran is currently co-producing his own research into different areas including Autistic Masking, Victimisation, and Monotropism & Autistic Identity with his research partner, Developmental Psychologist Dr Amy Pearson; He has a co-authored published paper on Autistic Masking with Dr Pearson; and another one on Masking in the publication process with Dr Louise Chapman. Kieran is also a published research partner with the Institute of Leadership and Management on workplace employment for Neurodivergent people; He has lectured at Universities across the UK and is a PHD supervisor for Durham University.
Kieran was diagnosed as Autistic in 2003 and is parent to three children, two of whom are diagnosed Autistic.
Ian MacDonald
Dr Ian McDonald has been a visionary technology leader for nearly 30 years and is currently the worldwide lead for tech engagement at Microsoft for Startups. He's previously led teams at a range of corporates and startups and built global-scale systems.
Ian is passionate about diversity and inclusion and is on the autistic spectrum himself.
Andre Skepple
Founder & CEO at FullSpektrum Ltd; SEND, Neurodiversity & Inclusion Specialist, Solutions Architect, Business Transformation Visionary